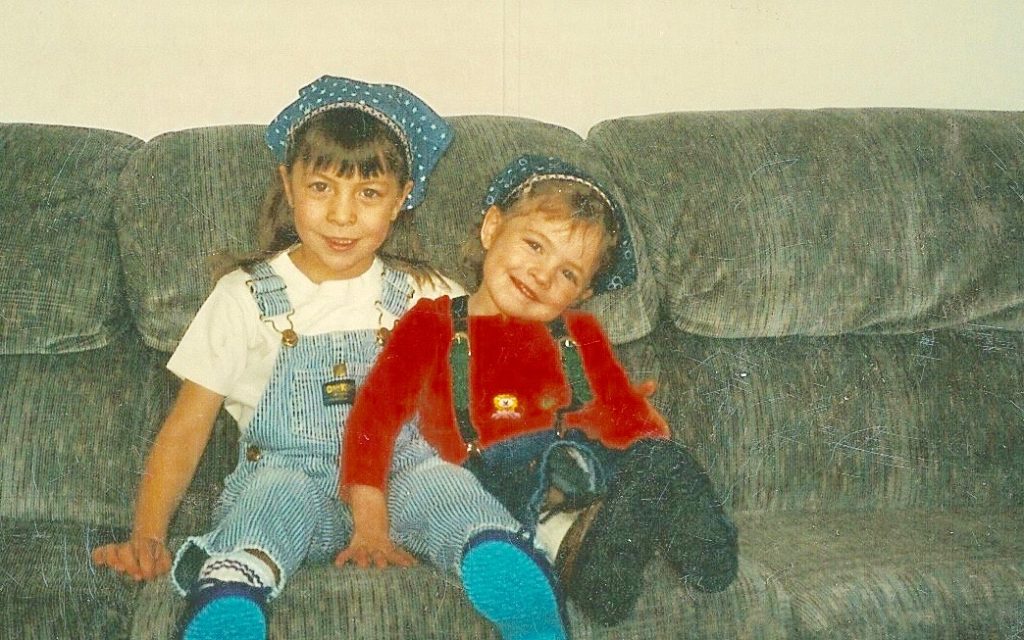 If you're in the loop in the breakaway roping world, you realize it's still buzzing about the one-two punch thrown by the Boisjoli sisters—Shelby and Makayla—at the most recent $1 million World Champions Rodeo Alliance major last month in Green Bay, Wisconsin.
It was a perfect, $75,000 clean sweep for two of Garth and Sherry Boisjoli's three beautiful, brunette daughters, who went head-to-head in the two-man showdown round at Green Bay.
"I don't think I've ever won that much in a year," said middle-sister Shelby, 21, who took the Titletown Stampede showdown round in 2.8 for the pretty grand $50,000 first-place prize. "It was so cool that I don't think it really hit me what had happened and how much I'd won until the next day."
Big sister Makayla's reserve-champ's check was worth a whopping $25,000, which also was her richest payday to date.
"I used what I won in Green Bay to pay tuition, buy some calves and invest in a new breakaway roping prospect," beamed Makayla, who's 22 and just earned the degree of bachelor of business administration in accounting from Tarleton State University in Stephenville, Texas. She'll start on her master's degree in business administration (MBA) in the fall. She then plans to take the Certified Public Accountant exam before pursuing a doctorate degree, with the ultimate career ambition of being an accounting professor.
Makayla—who won the $500,000 WCRA Semi Finals in May that advanced her and Shelby to Green Bay—may or may not have mentioned that Shelby bought five breakaway roping prospects within the first week of being back home in Stephenville.
"Between the three of us sisters, we have 19 head of horses," she grinned. "We train and sell horses. That's what pays for our school and for us to stay in the States."
The Boisjolis are natives of Langdon, Alberta, which is a small town just outside of Calgary. Dad Garth's been a cowboy all his life—of both the rodeo and ranch variety—and Mom Sherry was, in fact, a Calgary Stampede princess. Truth be told, she looks more like a fourth sister than the mom.
"Langdon was so small when we were kids that it was still a hamlet and not even a town," noted Makayla, who also mentioned that their team roping, breakaway roping little sister, Marissa, 19, did most of the driving to and from Green Bay. Titletown Stampede tie-down roper Wyatt Williams, who's an Idaho native and is Makayla's boyfriend, also was in the rig. "It grew as we grew, but was sure a great place to grow up."
"When we were kids, we roped every Monday at an indoor arena until I was in grade eight, which was freshman year in high school year," added Shelby, who just after winning the $50k in Green Bay turned right around and finished a phenomenal college rodeo year the reserve National Intercollegiate Rodeo Association breakaway roping champ at the College National Finals Rodeo in Casper, Wyoming.
"After that, we wintered in Arizona, and did our school work online. We all went back to school as high school seniors. All three of us girls graduated from Chestermere High School in Chestermere, which is 15 minutes from Langdon. Mom, her sisters and their mom before them also all graduated from Chestermere."
Shelby just finished her junior year at Ranger (Texas) College, where she's been concentrating on business, like her big sister. She plans to transfer to the Ranger campus in Stephenville her upcoming fourth year and focus on cosmetology. Meanwhile, Marissa just finished her freshman year at Ranger. Both Shelby and Marissa lived with big sister Makayla as college freshmen, so she could show them the ropes.
How is it the Boisjoli sisters ended up in the modern-day Cowboy Capital of the World?
"Stephenville is the place to be," Makayla said. "Before I came down to college, I told my parents I was going to get better (as in become a better breakaway roper). This area is where the very best breakaway ropers are. It's also the place to come to get the best help."
When Makayla was 2.54 in the long round at Green Bay, Shelby answered in 2.44 seconds, to make them one-two and advance both Boisjolis to the sudden-death showdown round. It was suddenly crystal clear that the master plan had come together. The Boisjoli family had it in the bag. The two sisters tied up their horses, and walked up into the crowd in search of the two people with the most perspective to soak up the magic moment.
"We went to give them a big hug," Makayla said. "Mom was so excited for us and Dad was crying, which was weird, because he never cries. Such a special night for our family."
How, exactly, did the showdown round go? Like just about every other short round, it came complete with unexpected twists and turns.
"I hit my rope on the fence, which meant basically having to regroup, and ended up breaking the barrier," said Makayla, who went first and was 8.77, including the five-second barrier. "If I'd missed, Shelby would have gotten $62,500 and I'd have gotten $12,500. If we'd both missed, we'd both have gotten $12,500, and the $50,000 would have rolled over to the next event, like it did when there wasn't a time in the tie-down roping showdown. It didn't really matter once we got to the final round which one of us was first or second, but we knew we couldn't miss and leave all that money there."
Per WCRA rules, Shelby was given the option of picking her calf, or roping first or last as a reward for winning the long round. She chose to rope last, and there's some family insider reasoning as to why that was really important to her.
"We both knew after she won the long round that Shelby would pick her position and rope last," Makayla laughed. "Because all our lives, we always beat each other. Whoever ropes last almost always comes out on top. We definitely feed off of each other. Maybe it's because that's how we've always practiced."
"It's true," said Shelby, who dates Texas tie-down roper Blane Cox. "It's always been that way. If the three of us are entered, whoever ropes first will win third and whoever ropes third will win first. We almost always beat the one ahead of us. I guess you could say there's sibling rivalry, but it's a good, positive rivalry. It goes back to when we were kids and we matched every day in the practice pen.
"Green Bay was really fun. In the first round, I was really nervous and felt a lot of pressure. I was relaxed for that last round. We weren't really worried about first and second. We were both just saying that we both needed to catch."
There was a time in this fairytale's past when all three sisters shared one sorrel unicorn.
"Flop was our great horse," Makayla said. "We have horse trainers on both sides of our family and have always made our own horses. The only horse Dad ever bought us that was ready to go was Flop. He bought him from his brother, our Uncle Guy."
With the three breakaway roping Boisjolis on his back, Flop took the provincial title—which is the Canadian equivalent to a state championship in the US—seven straight years. The three sisters rode their stirrups set the same to expedite the in-arena musical-saddles. Flop, who's 25 now and enjoying the retirement good life, gave them a foundation and a high standard to set in front of the horses they're training themselves today.
In Green Bay, Makayla rode her palomino horse Shooter.
"Shooter's been my #1 horse since high school," Makayla said. "He came from my cousin's W6 Ranch, and he gave him to me when I was in high school. (In case you're curious, her cousin happens to be Wrangler National Finals Rodeo saddle bronc rider Jake Watson, who also used to rope calves.)
"Shelby rode her horse Root Beer, who's a 6-year-old bay mare she bought pretty cheap. Shelby trained her, and not long ago had her priced pretty cheap, because she hated her. I think she likes her quite a bit better now."
The highlights reel on their young careers is already long—and growing. Besides their by far biggest checks ever in Green Bay and Shelby's reserve national intercollegiate title, she also won the NIRA's Southwest Region breakaway roping championship in 2019, as well as her favorite event at the 2019 Fort Worth Invitational Horse Show.
Makayla's been voted the Canadian Girls Rodeo Association Cowgirl of the Year by her peers. She trained an amazing black mare she called D.C.—which honored her Dash for Cash pedigree—on the barrels and poles that between the three sisters made the short round at the National Junior High School Rodeo Association Finals and National High School Rodeo Association Finals seven times. Makayla currently leads the Rafter L Roping Association breakaway roping standings, which is owned and operated by roping pioneer Lari Dee Guy.
But it hasn't always been a smooth, free skate—or all breakaway roping all the time—for the Boisjoli sisters. All three played basketball with such high intensity that records they set still stand.
"I chose basketball over rodeo until I tore my knee out," Makayla said. "Marissa's also had knee surgery from playing basketball. All three of us loved the team aspect of basketball, and we have that with our breakaway roping, too. We do whatever it takes for all of us to succeed (as evidenced yet again by both sisters getting off of their respective horses to help one another in the box at Green Bay). We really do work together when it comes to our roping. When we're training a horse, we might send it to the other one's house for a week. Whenever one of us wins, it's a win for the team."
Why did breakaway roping stick as their prime-time passion?
"Our parents didn't have a lot of money to buy us horses, and our dad knew how to help us with breakaway roping horses and our roping," Makayla said. "I love barrel racing, but I don't have the patience to go to all the jackpots it takes to season young barrel horses anymore. We're too busy roping.
"Lots of little girls grew up roping, then had nowhere to go with it after college. It makes me so excited that girls can showcase what they can do now. We put blood, sweat and tears into this just like every other rodeo athlete. We want the chance to be great, too. This is an outstanding time to be a breakaway roper. We are so lucky. Breakaway roping is in its prime, and we're so fortunate that people like Lari Dee and Jackie (Hobbs Crawford) paved the way for us."
According to Makayla, this fall's Canadian Finals Rodeo will for the first time feature a $50,000-added breakaway roping as an additional special event.
"I don't think anybody realized how many girls were sitting at home with a rope waiting to go somewhere," she said. "This has been a long time coming. I'm very excited people are finally giving breakaway roping a chance. We're definitely not trying to step on the toes of any of the other events. The rodeo community needs to band together and work together. Everyone in every event needs to pull together and stand up for our whole sport."
The Boisjoli sisters are definitely bullish on the WCRA.
"I think it's awesome," Shelby said. "It's a really good opportunity to make money and not have to break yourself trying to get that done. You don't have to go to extra, new rodeos to qualify for the big ones. You can even count college rodeos toward qualifying for the ($500,000) WCRA Semi Finals now. In the WCRA, you don't need to be a full-time rodeo contestant. A lot more girls are nominating from Canada now, too. I think it's cool that women of all ages can compete in breakaway roping. As for me, 2019 has been a really blessed year. I'm really grateful for it, and I definitely don't expect to top it."