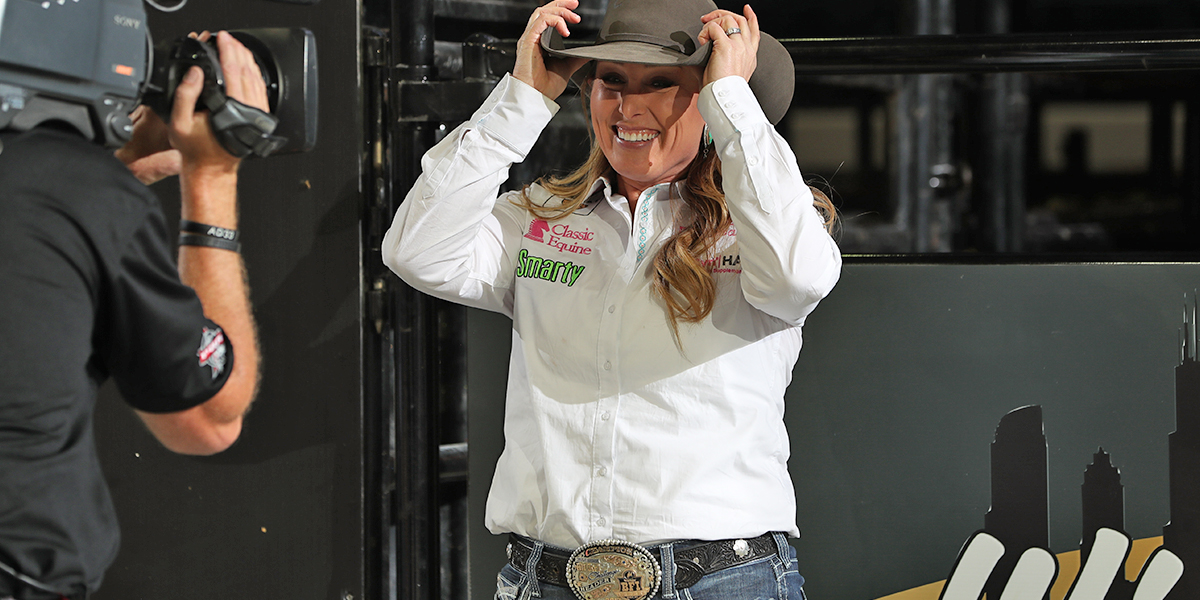 By: Kendra Santos
What could be better than a pregnant wife and mom winning the first-ever all-around title at the richest women's rodeo in the history of the sport? Step right up onto center stage, Jackie Crawford, and take your well-earned bow at the inaugural $750,000 Women's Rodeo World Championship!
Crawford clinched the all-around crown with breakaway roping and team roping earnings earlier this week at Will Rogers Memorial Center in Fort Worth, Texas, and will compete tonight for the coveted WRWC team roping title during the Professional Bull Riders World Finals over at AT&T Stadium in Arlington. Crawford will heel for Ruby Magnus tonight, and it's Crawford's last time to team rope until after her baby girl, Journey, is born in March.
"I've had this dream that women can rope for a living—and it's here," said Crawford, who also headed for Lorraine Moreno and heeled for Macy Fuller and Jackie's stepdaughter, Kaydence Crawford, here at the WRWC. "This is big money, and it's real money. You can win enough here at this one rodeo to compare to maxing out in a couple good years in the past."
Tonight's WRWC team roping titlists will win $60,000 each, with the top six barrel racers and top six breakaway ropers competing for some of the same during Saturday and Sunday's PBR performances, respectively.
"It's such an exciting time to be a part of this sport, and it all just happened to come at the same time we're welcoming another member to our family," said 19-time World Champion Cowgirl Crawford, who's a little over five months pregnant right now and was the breakaway roping champion at the first World Champions Rodeo Alliance Major—Chicago's Windy City Roundup in January, 2019. "To get to raise another little girl who gets to take advantage of what these girls—the women who came before me, and the young girls now—have paved the way for just makes me so proud.
"I want women to know that they can have it all. It's hard, and it's challenging. But don't cut yourself short in life and what's after this career. I can do it, and so can you. Thank you, WCRA, and thank you, PBR, for making this possible. This is amazing."