Not again. I wasn't the only one who said that out loud last Sunday at the Santa Maria (California) Elks Rodeo, when moments after photo-finishing it from Green Bay to run his second steer at Santa Maria, five-time World Champion Steer Wrestler Luke Branquinho had to be helped out of the arena in obvious pain and was virtually non-weight-bearing on his right knee.
"(Wrangler National Finals Rodeo steer wrestler) Stan Branco had run that steer in slack, and besides him being bigger than the others I thought he was a good chance," said Luke, who placed second on his first steer at Santa Maria, and the night before had finished third for a $10,000 pop at the World Champions Rodeo Alliance's $1 million Title Town Stampede in Green Bay, Wisconsin. "I missed the barrier a little bit, so we were rolling down through there pretty fast (Luke was riding his bulldogging horse Rockhouse). But everything felt good, and Stan (who hazed for Luke on Luke's hazing horse Rubble) had him lined out just right.
"I had a great go, and got a good catch on the steer. I slid him five feet or so, and he just fell on my leg. It was just a freak deal. I've run thousands of steers and have never had one fall on my leg like that. I caught his head, my feet hit how I wanted and the next thing I knew he was on top of me."
Luke immediately grabbed his knee, and all of us there cheering on our hometown hero—including Luke's parents, John and Brandy, who like me were sitting right there arenaside—gasped and held our breath. Luke's tough, and he doesn't do drama. It had to be bad.
"I felt something pop, and I heard a weird noise, but I was hoping it was that steer's horn hitting the brace on my other knee," said the 14-time NFR steer wrestler, who made his first Finals in 2001 and last competed in Vegas in 2015. "I knew something wasn't right, but was hoping I wouldn't need surgery."
Rodeo's resident medicine man and dear friend to us all, Dr. Tandy Freeman of the Justin Sportsmedicine Program, flew into Santa Barbara and met with Luke and his wife, Lindsay, on Wednesday evening (June 5). The Branquinho Ranch is located in nearby Los Alamos on California's Central Coast. The verdict: Luke's right ACL is torn in two. Surgery is now scheduled for June 19th in Dallas.
The plan is for Tandy to take part of the patellar tendon from Luke's right knee and basically use it to build a new ACL. It'll take about a two-inch incision to go in and get that tendon, and from there Tandy can make the necessary repairs arthroscopically. Luke, who is again ready to dive into rigorous rehab, is expected to be out of action about four and a half months.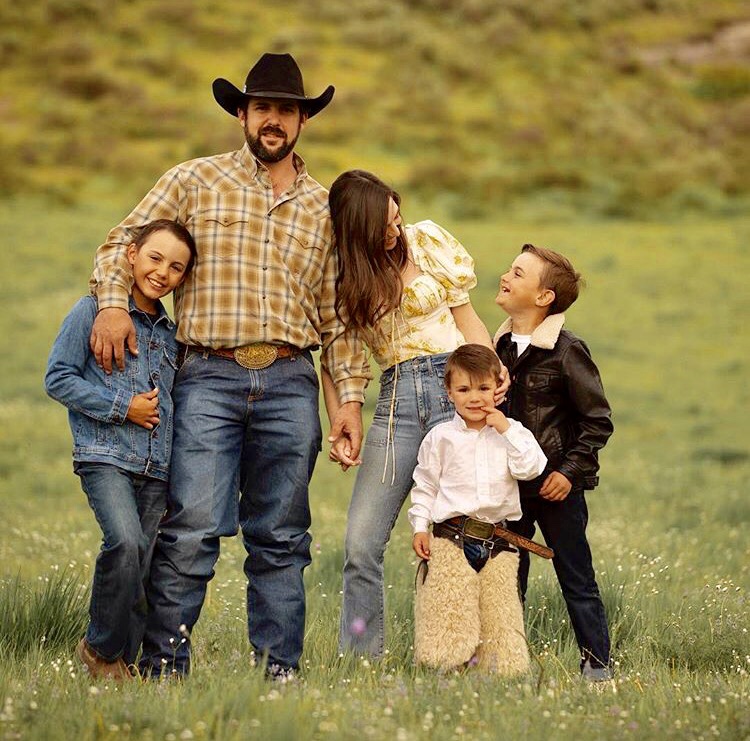 "I hope to be back for the California Circuit Finals in October," said Luke, who won gold bulldogging buckles in 2004, '08, '11, '12 and '14.
If it feels to you, as it does to me, like it's been one thing after another for Branquinho, that's because—well—it has. This seemingly non-stop slew of surgeries started with a lat (latissimus dorsi) tendon rupture (on Branquinho's back) and subsequent surgery in July 2014. In July 2017, Luke had rotator cuff and capsule repair surgery on his right shoulder. Then there was the surgery in February 2018 to repair the ruptured biceps tendon on his left arm.
What happened Sunday is yet another disappointing—if not devastating—derailment for the future hall of famer. And yet you'll still hear Tom Petty belting out "I won't back down" while you wait for Luke to pick up his phone. It's an attitude with this guy, and it's no act.
"One thing about rodeo—there are a lot of moving parts and those parts all have a mind of their own," said Luke, 38, who was actually born in Santa Maria. "Freak accidents are just part of this lifestyle. Unfortunately, the danger factor in our sport has hamstrung me a lot here lately. But it is what it is. For whatever reason, this was meant to happen.
"Getting hurt sucks in any line of work. The way I look at it, you can sit around and mope about it, and it'll take longer to get back at it than if you work hard at getting better and keep a positive attitude. And that's not just the case with injuries, but with life."
Branquinho's been busy on the Professional Rodeo Cowboys Association trail, and is ranked in the top 30 in the world. He's been making some rodeos count twice by way of the WCRA's Virtual Rodeo Qualifier system.
"I paid $400 to nominate two (PRCA) rodeos, which is how I got qualified for the ($500,000) WCRA Semi Finals at the Lazy E last month (and that's how he got qualified for last Saturday night's $1 million Title Town Stampede in Green Bay)," Luke said. "We get to the Semi Finals in Guthrie, don't have to pay any entry fees and don't have to beat very many people to—in my case—win $7,000 right there at the Semi Finals. Then I go to Green Bay, run one steer and—again with no entry fees—win another $10,000. The odds are phenomenal to win such great money in the WCRA.
"The crowd in Green Bay was phenomenal—it was sold out—and the production was great. This big, new money is catching on with the cowboys, and there's nothing not to like about it. So much of what guys are winning in the WCRA didn't come out of other cowboys' pockets. That's something we've all been hoping for for a long time."
There's plenty Luke could be complaining about right at the moment. But the fact of the matter is that Branquinho limped to his truck Sunday, drove straight back to the ranch and worked on a tractor. Hey, it's haying season here.
"Getting upset and mad has never really been me, even when it comes down to not getting a flag in the 10th round (at the NFR) for a gold buckle (in 2009)," Luke said. "You can sit there, be bitter and dwell on it. Or you can move forward and get better from it.
"Between having three kids (Luke and Lindsay have three boys, Cade, Jameson and Bear) and the ranch, I'm plenty busy. I'm in the field baling hay today, and I'm trying to get it all stacked before surgery on the 19th. There's no time to sit around and sulk. This hay's not going to put itself up."