By: Kendra Santos
Mustache Mania is spreading like wildfire back behind the bucking chutes coast to coast, and the bucking horse riders' winner's circle on opening night July 20 at the Utah Days of '47 Rodeo in Salt Lake City was no exception. Montana saddle bronc riders Chase Brooks and Sage Newman delivered a one-two punch in the classic event, and Beehive State bareback rider Dean Arthur Thompson—who's also sporting "upper lipholstery"—took the victory lap in his signature event here at the $562,500 World Champions Rodeo Alliance event.
Brand new baby-girl daddy Brooks, who lives in Deer Lodge, Montana, with his wife, Cara, and daughter, Charlie Jo, rode Bar T Rodeo's Vain Reflections for 86.5 points to win the night and advance to Monday's Gold Medal Round.
"I think this is the first time all year that I've beat him, so this is a nice change of pace," grinned four-time Wrangler National Finals Rodeo bronc rider Brooks, who's currently ranked 12th in the world. "This rodeo sling-shotted me out of a rough year last year, and it's always good to get some momentum going."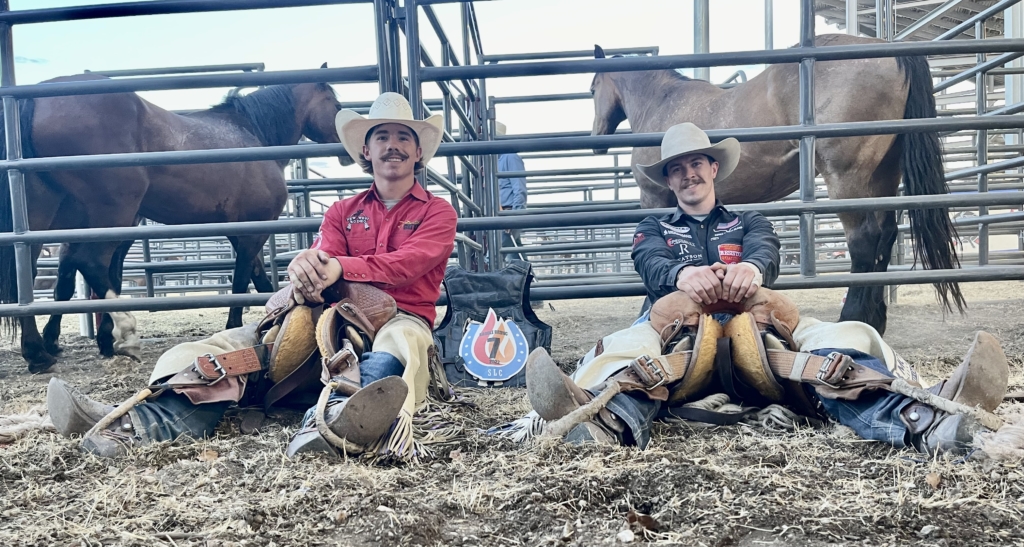 The top three rides and runs in every event that don't win performances also will advance to the Gold Medal Round, in addition to WCRA Leaderboard #1s. That'll make eight in each event vying for the gold medals and $25,000 champions' checks come Monday, and Newman's close second last night with 85.5 points on Macza Pro Rodeo's Lucky Cab has a great chance of moving on into the Gold Medal Round.
On the heels of his first NFR in 2021, Newman's having a dream season, and leads the world standings by better than $30 grand. So, Sage, what's up with the mass 'staches?
"We have a deal going in our rig that whoever shaves first has to buy the rest of us a steak dinner and a day of activities, which will include something fun outside, like maybe jet skiing," said Newman, who's had a whole lot to smile about so far in 2022; Tanner Butner and Kolby Wanchuk round out their four-man wolfpack.
It's a busy week, but the best in the business are making time for the Days of '47. Why?
"We're here for the money that's on the line and to go for that gold," Sage said.
Brooks tied at the top with Brody Cress here last year, and had to settle for the silver when Brody beat him by the tie-breaker, which was high-marked ride in the long round.
"I had to come back to defend what's mine," Brooks said, smiling again. "And it's pretty tough to turn down $25,000."
Brooks and Newman were off and running, and will ride in Salinas, California; Spanish Fork, Utah; Cheyenne, Wyoming; and possibly the Salinas short round before returning to Salt Lake City. Tis the season for high-intensity travel, and Thompson is on a similar trek this week, with stops in Spanish Fork and Ogden, Utah; and the short round in Nampa, Idaho before returning to ride again right here in Salt Lake City on Monday.
"This is my first time to Days of '47, and to ride in front of my hometown crowd is my favorite thing," the opening-night bareback riding champ beamed. "It's close to home, and the added money is just unreal."
Our rodeo family is for real, and Thompson grew up neighbors to both steer wrestler Cash Robb, who won the 2021 WCRA Cowtown Christmas in Fort Worth last December, and the bull riding superstar Frost brothers.
"I grew up steer wrestling with Cash's dad, Justin, and bull riding with Shane Frost (who's Joe, Josh, Jate and Jacelyn's dad)," Thompson said. "I still work those events in college (Dean Arthur will be a junior at Western Texas College in Snyder this fall). My Uncle Kevin Jessen started my older brother, Derrik, and me in the bareback riding, and we were the first kids in our family to even think about rodeoing.
"This is my first time coming to this rodeo, and Corpus Christi was my first WCRA rodeo. I went with some of my best friends, and I loved it. Once you understand how this all works, it's easy. Besides that, all my nominations to qualify to ride here were just covered by the $500 they gave every one of us for showing up here—not to mention no entry fees. Last year, I dropped off a good friend here on my way to another rodeo. He said it was a blast, and here I am."
Thompson picked Bar T Rodeo's Outlaw in the draft on the recommendation of friend and fellow Utah bareback rider Bronc Marriott. The gritty mare did not disappoint, and 86.5 points later, the victory lap belonged to Dean Arthur.
"I had first pick at the horses, and took my buddy Bronc's advice," said Thompson, who just broke a molar in half during another wild ride in Nampa that slammed him to the ground, resulted in a re-ride, but ended well with him up top in the early going with 84.5 points aboard Bailey Pro Rodeo's Hanna Bear. "She was a little wild getting out of there, but we managed to make it work. I appreciate Bronc telling me about her. That's good friends and cowboys for you. I love every second of this. Every day I wake up feeling like I'm living the dream."
He's not alone, and rounding out the roughstock events on opening night was Rodeo Corpus Christi bull riding champ Deklan Garland with the 89-point win on the back of Bar T Rodeo's bull Goofy. If Garland—like first-perf steer wrestling winner and fellow Oklahoman Riley Duvall—can manage to win it all here at Days of '47, he will be one win away from the coveted $1 Million Triple Crown of Rodeo bonus, which is up for grabs to any athletes who can win three straight WCRA majors.
"It's tough to win three in a row in the bull riding," said Garland, who'll spend the next few days at the Professional Bull Riders event in Big Sky, Montana before returning for Monday's Gold Medal Round. "There are very few places we have a chance at a million dollars in this sport. Winning that kind of cash would be the ultimate."