By: Kendra Santos
Fourteen-year-old London Gorham was born a rodeo royal. Her ProRodeo Hall of Fame granddad Phil Lyne—a world champion all-around cowboy, tie-down and steer roper who 50 years ago in 1972 won the Wrangler National Finals Rodeo average at both ends of the arena in the tie-down roping and bull riding—is one of the most versatile and legendary cowboys of all time. She loves her grandpa dearly, but make no mistake—London is here to make her own history. And with a blazing 15.374-second run in the qualifying round, Gorham and her wicked mare Wanda are taking aim at headlines here at Rodeo Corpus Christi.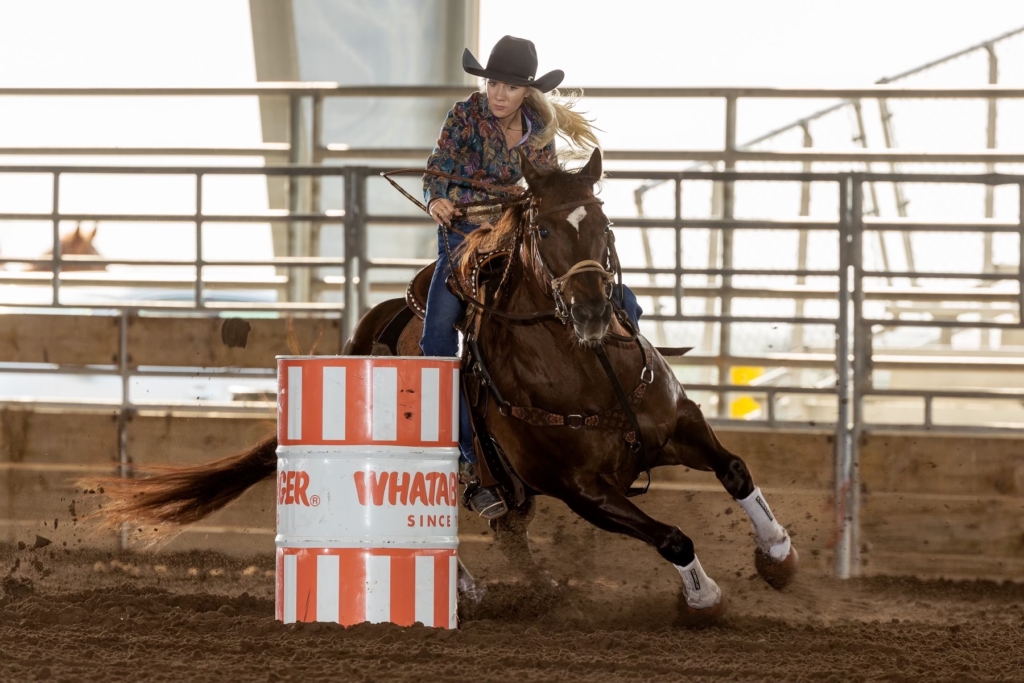 "My grandpa is the most kind, humble person ever," said Cotulla, Texas cowgirl sensation London. "My Aunt (Samantha Lyne Mauney) and Mom (Phil and Sarah's other daughter, Amanda) are my very biggest supporters. I come from a family full of horse people, and I've learned all about handling pressure from them my whole life. When it's all said and done, my goal is to be the greatest barrel racer of all time."
One day at a time, and after setting the pace as the very first barrel racer out here at Rodeo Corpus Christi, London and her 10-year-old chestnut mare Wanda—whose registered name is Fortunes Flame—showed up and showed out big in the qualifying round.
"It's a lot to be very first out, because you don't know what you have to do and don't know how the ground's going to be," London said. "It's also nice to know before you run whether it's going to be super salty or not. I had no idea what I had to do, so I just went for a smooth run—because the last run I made on Wanda was literally a wreck."
Mission accomplished in moving on to the performances over at American Bank Center with the help of Wanda, who's been one of London's favorite four-legged friends since 2018. But there's a curveball coming, folks.
"I do not plan to ride Wanda at the building in town," London said. "I'm going to ride my 5-year-old, Homeboy (Runnin With Wings is his registered name). I've only run him 10 times, and he's just so fun, big-hearted and consistent. Why not have fun with it? Homeboy's so honest and mature. He does not act his age. I'm just so excited to run my baby over at the other building. He's the sweetest thing ever, and I love him."
Like people, horses come complete with their own personalities. Wanda's not nearly as sweet to their jockey as Homeboy.
"Wanda's so mean," London grins. "She only likes my mom. My mom's her person. Wanda's very tough and talented, but she bites me when I'm not on her back."
Gorham's other rodeo-specific goals include winning The American and the NFR. The American is a possibility now, but she'll have to wait four more years to be old enough to turn pro at 18 and even be eligible for the NFR in Vegas. But when it comes to competitive perspective, this girl is wise beyond her years and youth.
"I just try to stay calm and be consistent," she said. "There's always another rodeo. I love the WCRA for lots of reasons. The ground's always good, the rodeos pay great and it's always a salty race. But as soon as I turn 18, I'll hit the road and be gone. All I want to do is go to the NFR—and win it."
Florida's Britta Strain won the Rodeo Corpus Christi breakaway roping average today with 5.45 seconds on two head to advance to the performances. Kerstin Freeman of Cooper, Texas, came out on top amongst DY breakaway ropers in the year-end DY race as well as here at Rodeo Corpus Christi with 6.49 on two calves. She also finished fourth in the overall average, and advanced to the performances at the American Bank Center.
In other rodeo youth movement news, Arizona's Kialyn Armstrong is the year-end DY barrel racing buckle winner, and Texas cowgirl Jordyn Koonsman was tops amongst WCRA DY barrel racers with a 15.709-second run here at Rodeo Corpus Christi. She also is advancing to American Bank Center with the best in the business. Go young guns!